Sake brewing is a laborious art form steeped in tradition, but it's also an art form that is constantly evolving. One brewery especially known for its innovation is Dewazakura Sake Brewery, in Yamagata prefecture, Japan.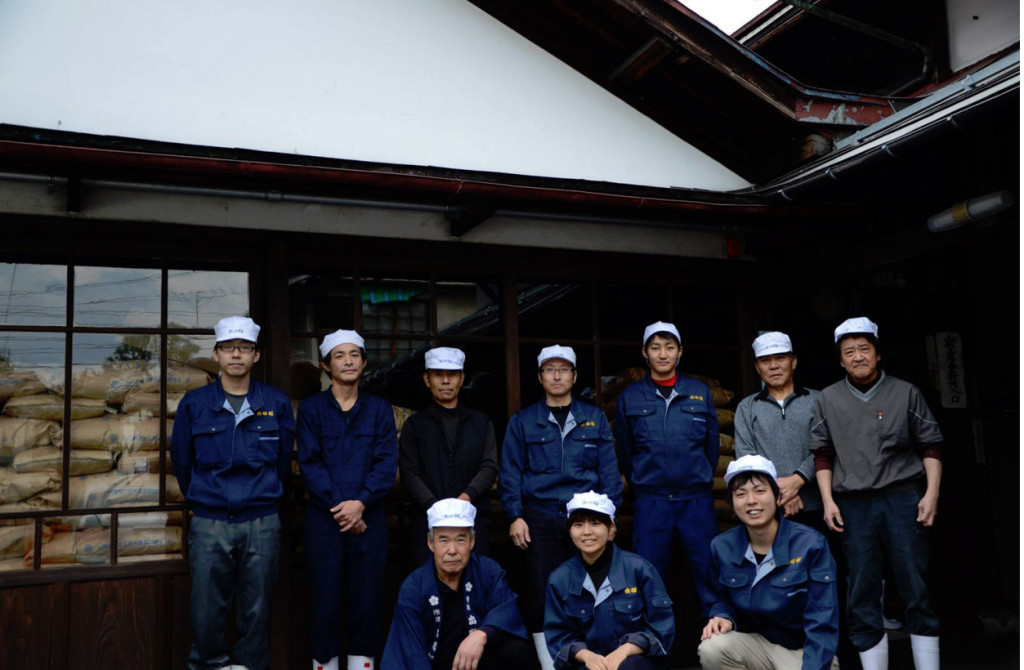 "Our brewery's philosophy is 'change and reform'. We have to succeed in traditional methods. However, it is also necessary to change for demands of consumers. So we try to make sake which is loved by today's consumers," says Shotaro Nakano, 7th generation sake brewer.
This philosophy has really made Dewazakura stand out, and made them a favorite abroad.
Dewazakura was founded in 1892, so they have over 120 years of sake experience and great sake behind them.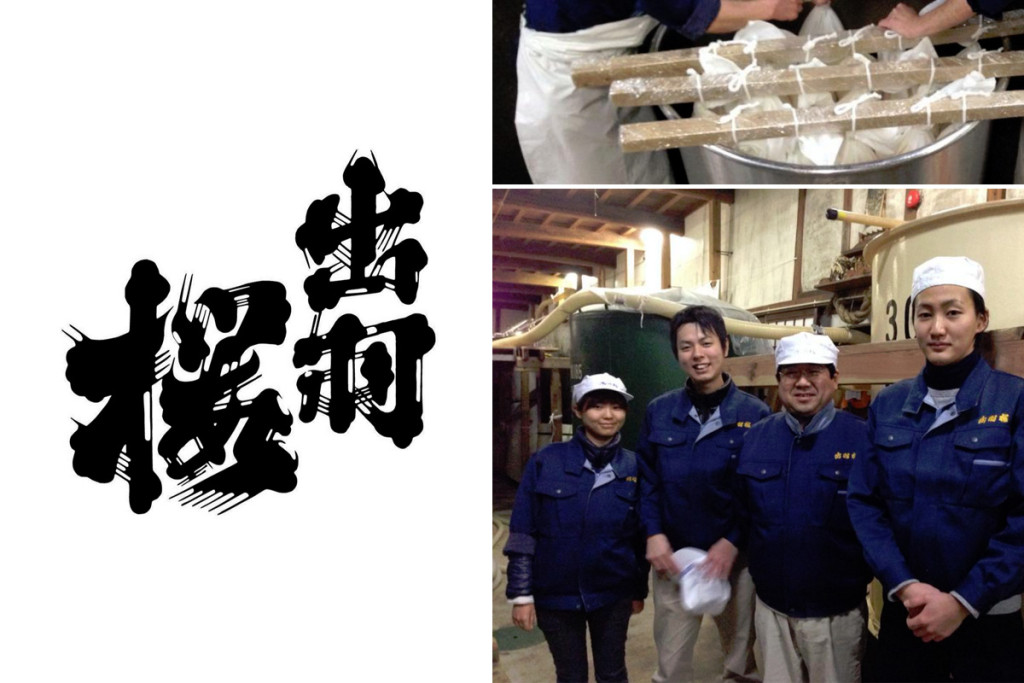 Dewazakura Oka ginjo "Cherry Bouquet"
One sake by Dewazakura that really changed the sake scene was their Oka ginjo "Cherry Bouquet".
Ginjo sake is super-premium sake, where the rice is polished down to at least 60% of its original size to remove impurities. Ginjo sake also has strict regulations for the brewing process. The result is sake that is light and fragrant, with delicious fruity and floral aromas and flavors that aren't as evident in lower grades of sake.
You can read more about ginjo sake here.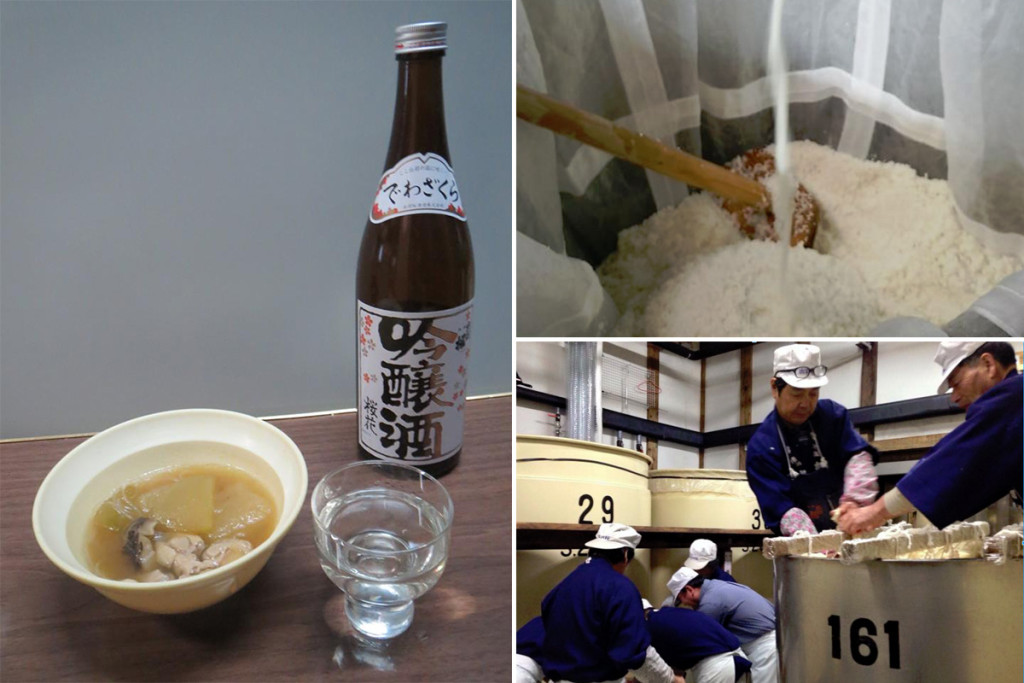 Back to the 80s.
In the 70s and 80s, no one was drinking, or even knew about ginjo sake except for sake brewers. Ginjo sake was rare, and only made for competitions. Ginjo sake is difficult to make. It's labor intensive and expensive to produce, especially back then.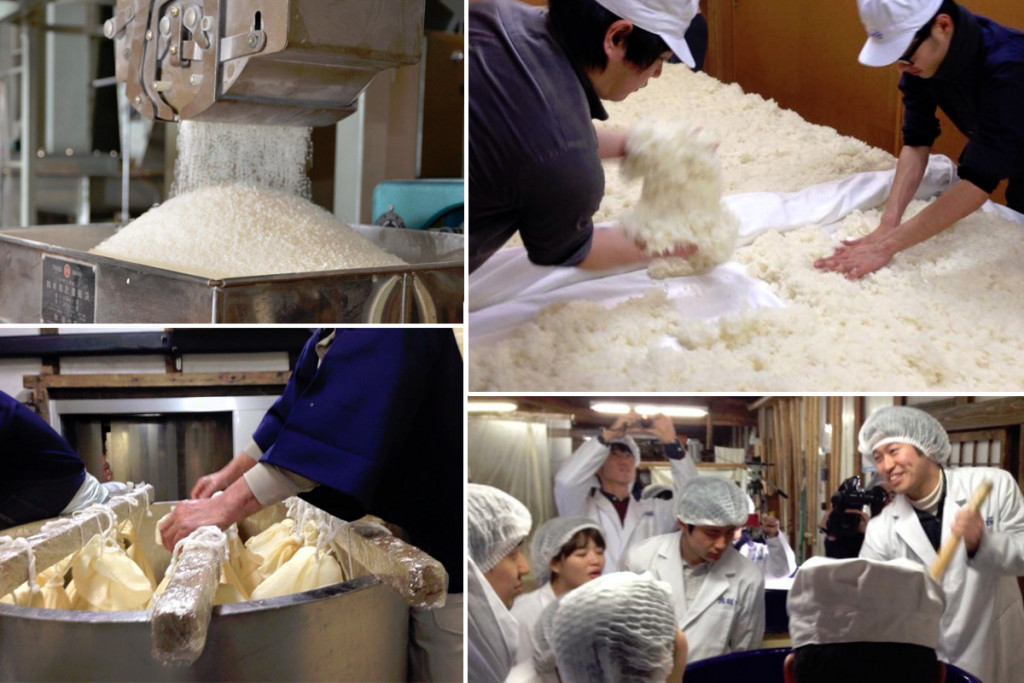 Dewazakura had an idea, to use one of our favorite expressions, to "bring sake to the people".
"We wanted everyone to enjoy drinking ginjo," Shotaro explains. "So, we started to market Oka Ginjo at a reasonable price in 1980."
Oka ginjo was a hit, winning competitions and spreading across Japan, and then to the states, and creating a "ginjo-shu boom".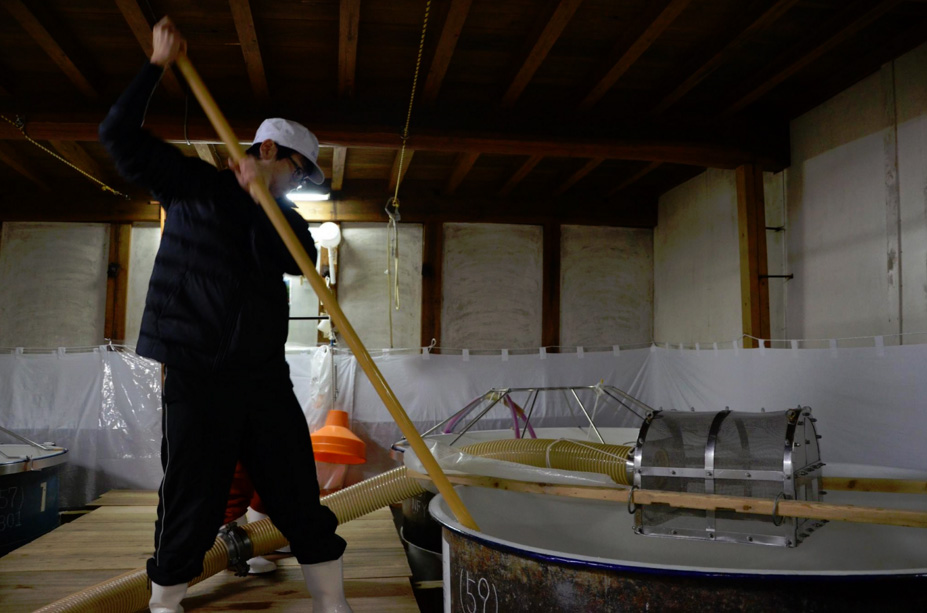 Suddenly, premium sake was the drink.
Accessible and affordable Oka ginjo made ginjo sake well known outside of sake competitions and breweries. This was a first for sake breweries, to make ginjo sake for the general public. Since then, the demand for premium sake has continued to grow and is served in bars and restaurants all over the world.
Since, 2008, Oka ginjo had topped the list for 12 consecutive years in the ginjo-shu category in Jizake Ninki Meigara Rankingu, an authoritative guidebook on the most popular sake.
Oka ginjo smelled so good even the cosmetics industry jumped on the ginjo bandwagon. It played a role in the development of the scent for a new product of SK-II, a cosmetic brand owned by P&G Max Factor.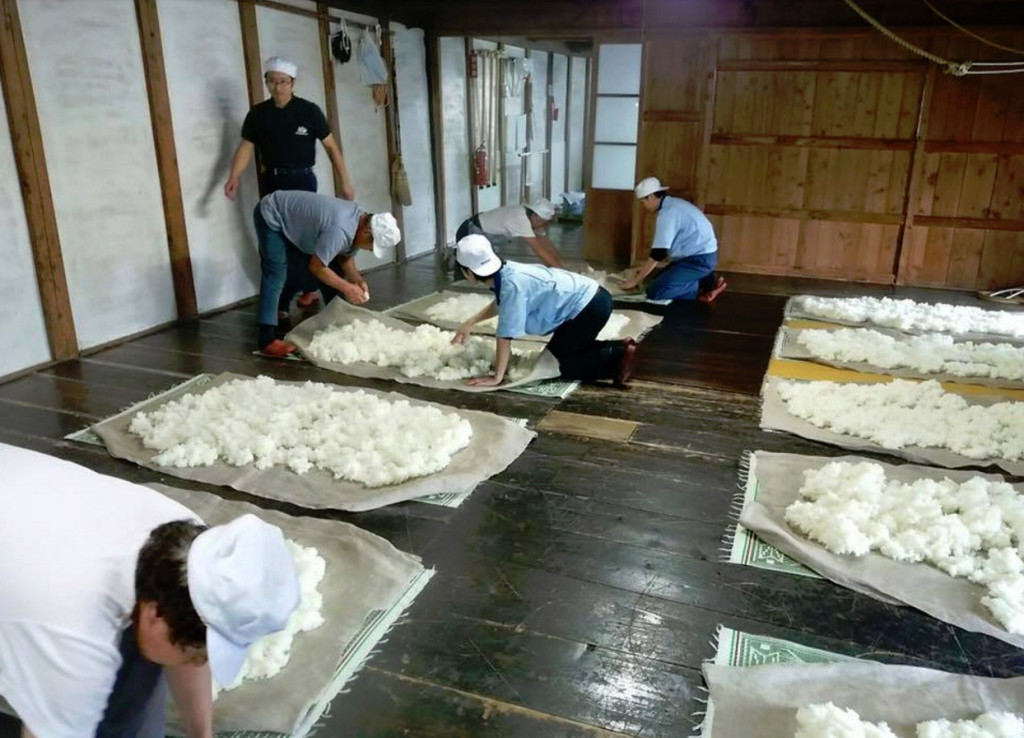 We want to spread Ginjo all over the world
Dewazakura's goal is "to make ginjo famous. We want to spread Ginjo all over the world," says Shotaro.
Oka Ginjo is a light and fresh sake that has a seimaibuai (rice polishing ratio) of 50%. It is made with Miyamanishiki and Yukigesho rice. The alcohol is 15.5%. Acidity 1.2, SMV +5. The yeast is Ogawa. Oka ginjo is light and refreshing, and smells like its namesake, a light floral bouquet of cherry blossoms!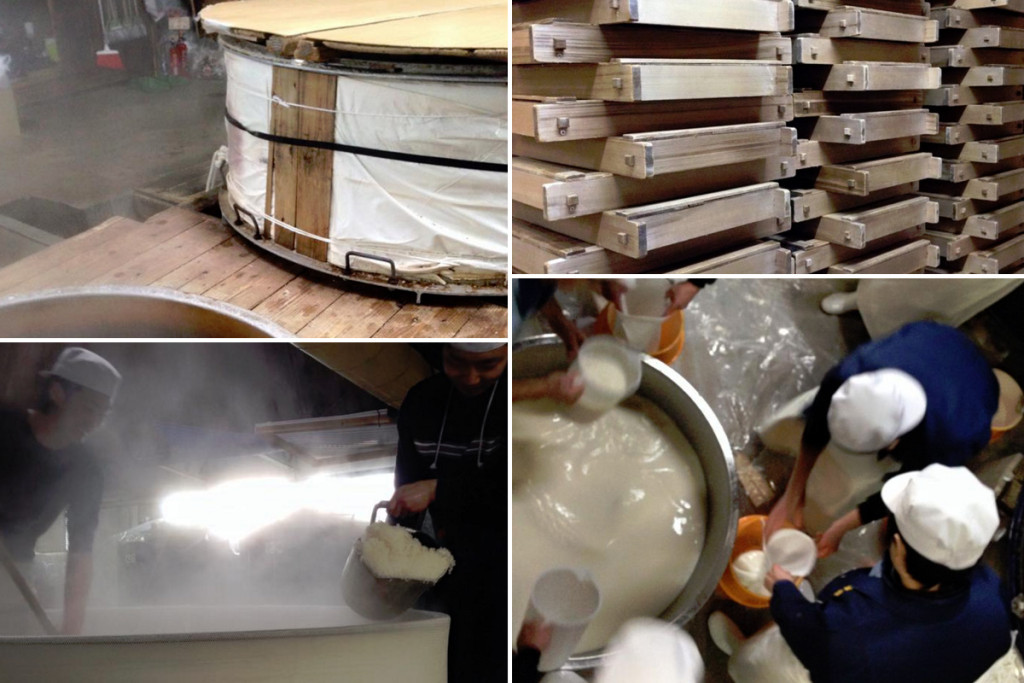 The brewery today: A wide range of sake
Today, there are almost 70 people at Dewazakura. They have two breweries, each with their own toji (master brewer). One is over 70 years old, and has been making sake for Dewazakura for over 50 years! He is truly what you would call a "sake professional". The other toji is about 45 years old. Shotaro described him as "ambitious and a good communicator. We think he will make the next generation of our brewery."
Shotaro and his wife Akari currently work with sales and brewing.
While Dewazakura has received a lot of hype for their ginjo, they are also famous for their namazake (unpasteurized sake).
"One of the most important characteristics [of Dewazakura sake] is aroma. Our sake has a fruity aroma, like a delicious apple. This comes from very careful sake making," says Shotaro.
Wondering which sake to try? Shotaro's favorite is Dewazakura's Junmai Daiginjo Ichiro. This sake was the 2008 champion in the IWC (International Wine Challenge).
Dewazakura produces a wide range of sake. They make premium sake, standard sake, sparkling sake, aged, sake… which means they can match their sake to any type of food.
For new sake drinkers, Shotaro reminds us that "there are many kinds of sake. Enjoy the various kinds of sake at various temperatures and with various foods, so you can enjoy sake more."
Dewazakura began full scale export of ginjo-shu in 2000. The currently export to 25 countries. Ginjo-shu is a valuable part of Japanese culture, and one Dewazakura wants to share with the world.
The reception, and awards, abroad don't stop for Dewazakura! They were the Gold Prize winner of the National New Sake Awards in Japan, for 12 consecutive years. Dewazakura Ichiro won the Champion Sake Award of the International Wine Challenge (IWC) 2008 in the UK. They also won the Gold Award of the U.S. National Sake Appraisal for 11 consecutive years.
Despite the attention that Dewazakura has gotten for winning competitions with their sake, it's not a main focus for the brewery. "We make sake for customers. The awards were just a result of that."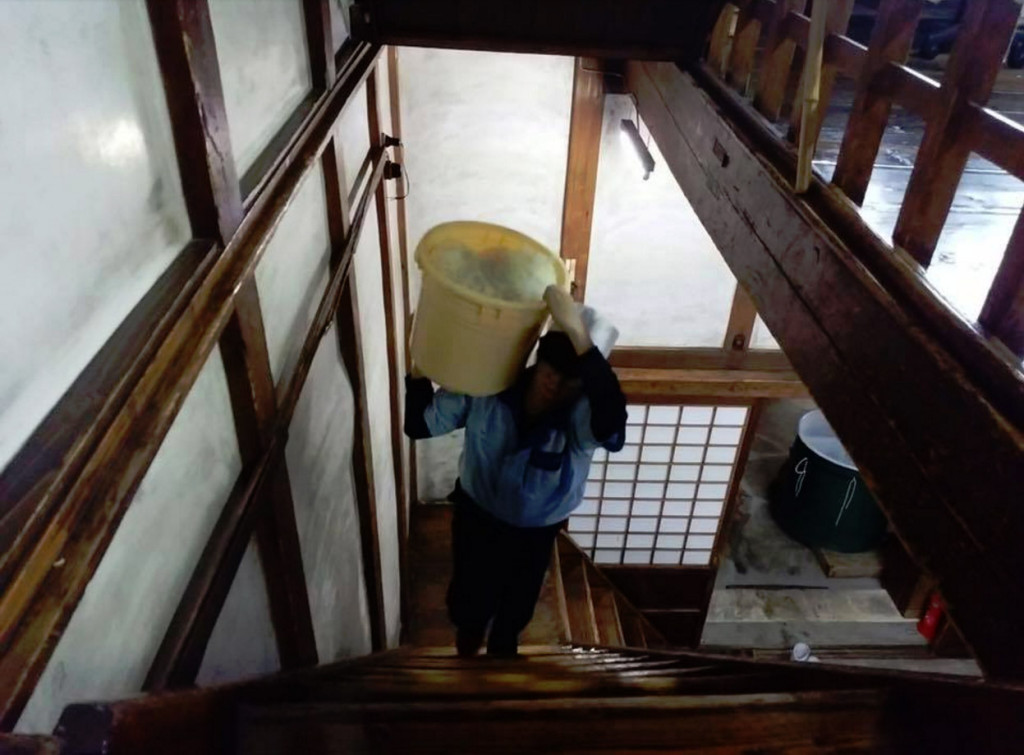 Their mission remains dedication to their fans.
Brewery methods
Dewazakura brewers are skilled in traditional brewery methods. Dewazakura uses rice that is highly traceable, and polishes it at their own rice mill. During the fermentation process, they use tanks that are small enough to be handled manually. This allows for precision temperature control, which means high quality sake in small quantities.
The sake brewery's work doesn't stop when the sake in finished, they also have to ship their products all of the world, and keep them cold so the quality doesn't deteriorate.
They are the only brewery in Japan that has oxygen reduction equipment to remove the oxygen from the sake before letting it mature in storage at -5C. This process allows them to avoid oxidation and deterioration of the sake, meaning they can ship high-quality ginjo year round.
Another special technique Dewazakura uses is to bottle unpasteurized sake and seal the bottles with crown cap. Then they put each bottle into a hot water bath of 65C. Since the bottles are sealed, the fruity ginjo scent doesn't escape during the pasteurization process.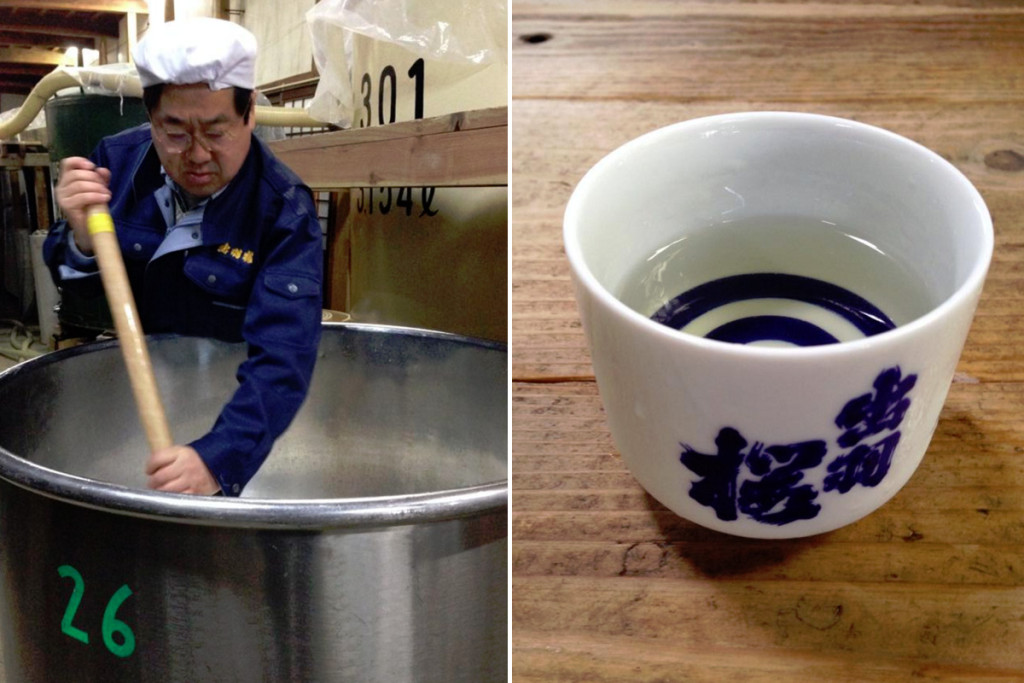 Tendo City & Yamagata
Tendo City, where Dewazakura Sake Brewery is located, is a small town of 60 000 people, located 300 km north of Tokyo. It sits in the Yamagata Basin, in Yamagata prefecture, surrounded by beautiful high mountains.
Tendo City is hot in the summer (often over 35 C) and gets a lot of snow in the winter.
The Nakano family, the original founders of Dewazakura, were major landowners in the region. Dewazakura, in addition to perusing quality sake, is also an art collector, though perhaps it's that appreciation for quality works of art that craftwork that also translated into successful sake brewing. The collection, which includes craftwork of the Joseon Dynasty of Korea, and paintings by Shinichi Saito, is open to the public at Dewazakura Museum of Art.
"We have great natural resources," Shotaro says. This is really important for sake brewing. Premium sake has only 4 main ingredients, so the quality of water and rice play a huge role in the resulting brew.
"In the winter we have more than 2 meters of deep snow." The snow melt provides clear water.
"The temperature between the daytime and the night time is extremely different. It helps to produce sweet and delicious fruits. The majority of cherries and pears are grown here. Apples, grapes, and peaches as well. And every city in Yamagata has hot springs!"
Dewazakura has also made a habit of welcoming partners from outside Japan to their brewery to teach them about sake, opening up the west to try ginjo sake.
If you are traveling to Yamagata, they also have a huge dance festival called "hanagasa maturi" in the summer. Shotaro and Akari's hometown, Tendo City, also has a "Human Shogi festival" in the cherry blossom season. "Shogi is Japanese chess which was used to learn samurai tactics," Shotaro explains. "Shogi pieces are produced in Tendo as traditional crafts. In the human shogi festival people who are wearing Japanese armor or kimono act as Shogi's pieces."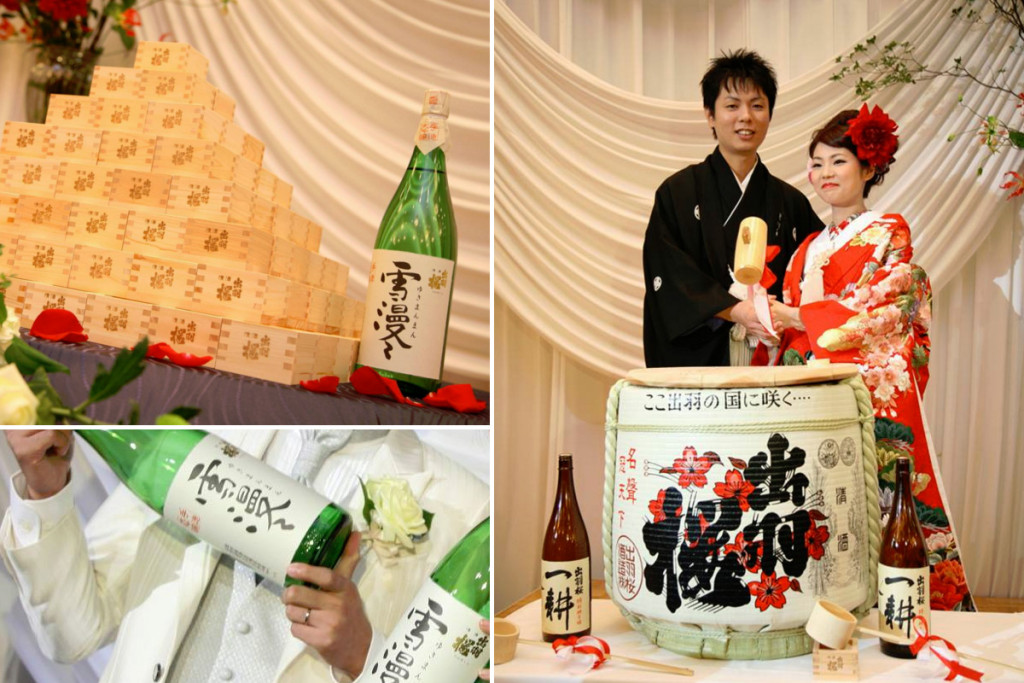 All the snow in Yamagata also means year-round skiing!
Yamagata is known as one of the best ski resorts in Japan. Gassan Mountain is open for skiing even in the summer. The best powder though, Shotaro confirms, is Mt. Zao.
The winter in Yamagata is also a great time to visit the brewery, because that's when the brewing is happening. In a prefecture known for being an exciting and innovative place for sake, Dewazakura is one name to know.
We are looking forward to see what Dewazakura brews next!
Thank you for sharing your sake with us.
Lani is the Chief Creative Officer / Sake Sommelier (WSET Global Level 3 in Sake) at the Norwegian Sake Association. Foodie and sommelier by night, she is a designer and web implementer at Megabite as by day. Lani is American/half-Japanese. She moved around alot, but grew up mostly in Seattle and Los Angeles before landing in Stavanger in 2008, with her Norwegian husband.