The holiday season will soon be here, and that means its julebord time!
We would like to invite you to a private julebord of SAKE TASTING and tapas. This tasting will be something special, Lani and Mabel have decided to share some sake from their private collections that isn't available (yet) in Norway!
Hope you can join us,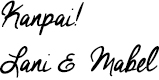 Details
Date: 10.12.2015
Time: 19:30 – 21:30
Location: Stavanger sentrum (address will be sent on sign up)
Cost: FREE!
Registration: Members only, open to the first 20
Sign up
Email: post@sakenorway.no
with the heading: SAKE JULEBORD 2015
Not a member yet? Click the link below to sign up!



Lani is the Chief Creative Officer / Sake Sommelier (WSET Global Level 3 in Sake) at the Norwegian Sake Association. Foodie and sommelier by night, she is a designer and web implementer at Megabite as by day. Lani is American/half-Japanese. She moved around alot, but grew up mostly in Seattle and Los Angeles before landing in Stavanger in 2008, with her Norwegian husband.