On a Thursday in January, the case is sake. The thing is beer. The place is Stavanger Øst.
Dear members of the Norwegian Sake Association,
We are starting 2016 with these New Year's resolutions:
Try new things, have more fun, and more socializing.
So we have for you a new kind of event!
Good food needs good drink, so Mabel Moya and Lani Vatland are bringing sake to Stavanger Øst. A third local beverage enthusiast is Helge Andre Hafstad from the new quality craft beer bar Øst, "a pleasant alternative to what goes on downtown".
The evening:
An engaging mini-talk on sake, beer and food
5 courses with sake and beer pairing from Øst
A night out that will make you happier AND wiser
Meet people who are passionate about sake, beer, and the next big thing in Stavanger
Details:
Date: 14.01.2016
Time: 19:30
Location: Ostehuset Øst
Ryfylkegata 30, 4014 Stavanger
Sign up!
Price 895,- per person

See you there. You don't want to miss this!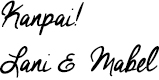 Ostehuset
The event will be at Ostehuset Øst (the names means "house of cheese"). Ostehuset is truly a food destination: shop, café, and catering all under one roof.
You'll find homemade food and shelves full of preserved and dried goods of the highest quality. Their freshly made specialties include bread, cakes, patisseries, sauces and stocks, a wide selection of daily dishes featuring fish, chicken, meats and many vegetarian options. You'll also find tapas, fresh pesto and garnishes to accompany excellent cheeses. On the shelves there are many kinds of dried ingredients, oils and vinegars, coffee, tea and chocolates, many of which are exclusive to Ostehuset.
Øst
ØST is a brand new bar in Stavanger Øst focusing on craft and quality products only. "A pleasant alternative to what goes on downtown."
Their motto is that if you're not satisfied with the current situation it's your own responsibility to do something about it. So they did, DIY style.
It's hard work that costs blood, sweat and tears. Or in their case: Beer, sweat, and tears!
Øst is the new favorite local spot in Stavanger Øst, Østre bydel in Stavanger kommune by Tou Scene.
They even have a beer called "sour yuzu", with the flavor of the Japanese citrus fruit "yuzu"!
Lani is the Chief Creative Officer / Sake Sommelier (WSET Global Level 3 in Sake) at the Norwegian Sake Association. Foodie and sommelier by night, she is a designer and web implementer at Megabite as by day. Lani is American/half-Japanese. She moved around alot, but grew up mostly in Seattle and Los Angeles before landing in Stavanger in 2008, with her Norwegian husband.