Mabel and Lani were recently interviewed by Ivar Vasstveit for Byas, an online news source published by Stavanger Aftenblad on the people and happenings in the Stavanger Sandnes region. The following is our approximate English translation of the article. You can read the original Norwegian article here.
We already have sushi. Now comes sake!
 
SAKE-DUO: Heard of sparkling sake? No? No problem, according to Mabel Moya (left) and Lani Cantor Vatland. By: Ivar Vasstveit
If you manage to sell raw fish to Norwegians, selling alcohol should be just child's play. At least that's what Lani and Mabel hope.
– Things change fast. When I came here ten years ago there was almost nothing Japanese, except for a few sushi parlors, says Lani Cantor vatland (32).
Actually Lani half American and half Japanese, but since the early 2000s she has lived in Stavanger.
– But then sushi seriously took off. Who would have thought that friday night taco dinner would be replaced by sushi? Now we believe sake is the next big thing from Japan. We will certainly do our best to make it so.
– If one manages to sell raw fish to the Norwegian people, then selling alcohol should be child's play?
– Ha, ha. Yes!
Do not shot!
A quick refresher for those who have not practiced Japanese for a while. When we talk about sake in the west, we think of the traditional Japanese rice-based drink anyone traveling to Japan sooner or later gets served. The brewing method is not unlike that of beer and the alcohol percentage may creep up to 22%, according to Lani.
Actually it should be drunk slowly.
Not bad. The taste? Slightly rice-like, perhaps?
– Sake course comes in many different forms, but the common denominator is a mild taste. It will not taste strongly of rice. In addition there is one thing that is important …
– Oh?
– Yes, sake should not be shot. Sake should be left to sit while drinking it. Sake should be drunk slowly.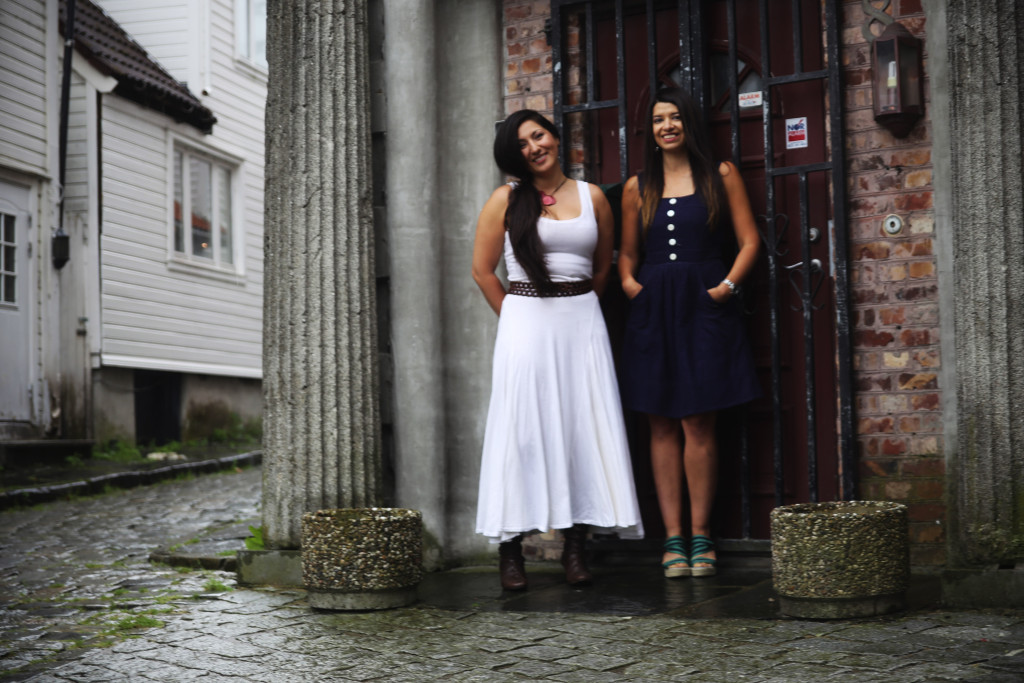 ASSOCIATION: Lani (left) and Mabel are fascinated by mostly everything coming from Japan. Now they want to spread sake to the Norwegians. PHOTO: Ivar Vasstveit
Not only for sushi
It is not without reason that Lani tells about her interest in sake. She would like more people to become aware of her favorite beverage, and together with, Mabel Moya (37), among others, they started the Norwegian Sake Association. A dead-serious hobby project that is based leisure until further notice.
The goal?
– Tell people that sake is good for much more than just sushi. Actually, you can use it for anything. For example, in cocktails, or as sparkling wine, says Lani.
"Sake is good for much more than just sushi."
– And then there is the hope that we can create the basis for a trade cooperation between Japan and Norway. We want to have more sake imported to Norway, and we will try to help spread the Norwegian sake (yes, we have one! From Nøgne Ø, journ.anm) to the Japanese market, continues Mabel, who in about a month's time will travel on research trip to Japan.
There she will, among other things, identify and talk to producers and gauge the mood of cooperation with the Norwegian market.
SAKE DRINKS: If sake is part of the daily diet of President Obama is still uncertain, but here he drinks at least a bit. PHOTO: REUTERS / Joshua Roberts
Focusing on a sake festival
Meanwhile, the association is working on a big goal we in the Stavanger and Sandnes area can see the fruits of the very next year.
A sake festival!
– We are still in the planning stage, but the idea is to create a festival quite similar to the annual Wine Festival. We want to bring a variety of sake producers to Stavanger, and let them present what they are doing at several restaurants throughout one week. Everything is being done in conjunction with the restaurant menus to suit each drink, says Mabel.
– Date?
– No, we can not say yet.
– Ok! Incidentally. Who does sake have to knockout to enter the market? Is it beer or wine?
– Wine!
Lani is the Chief Creative Officer / Sake Sommelier (WSET Global Level 3 in Sake) at the Norwegian Sake Association. Foodie and sommelier by night, she is a designer and web implementer at Megabite as by day. Lani is American/half-Japanese. She moved around alot, but grew up mostly in Seattle and Los Angeles before landing in Stavanger in 2008, with her Norwegian husband.